What your DOG will love
Builds robust immunity to fight infection
Improves joint mobility for blissful play time
Supports shiny fur and healthy skin
Aids digestion for sensitive tummies
Made of real peanut butter!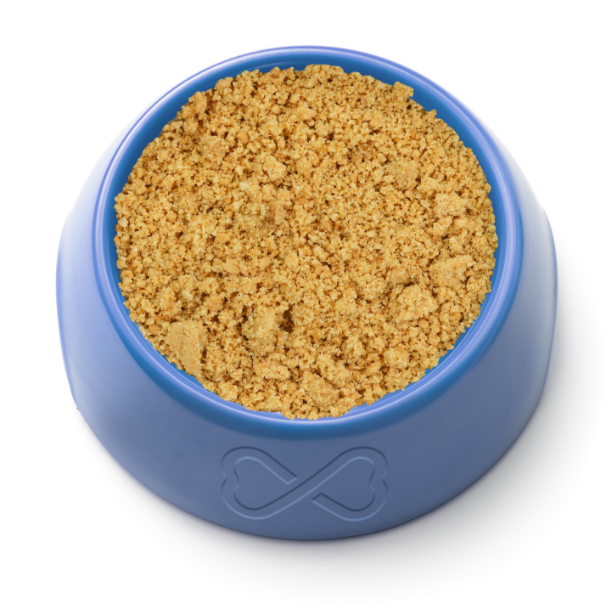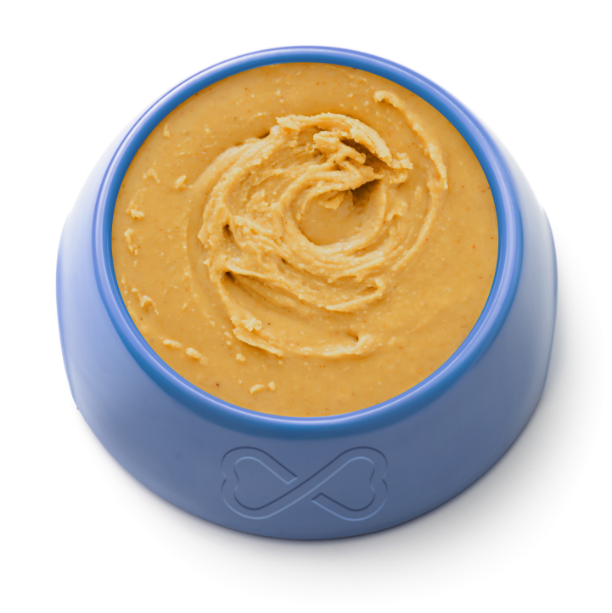 What YOU will love
Patented ingredients such as KSM-66® Ashwagandha, DigeSEB Super Pet™, Curcumin C3 Complex®, BioPerine®, ROVIMIX® Biotin
A dog whose healthy joints keep them active no matter their age
Soft and shiny fur made for cuddling
A strong immune system will keep your pet happy and healthy
Easy to administer: Simply mix powder with water and voila! You got a delicious peanut butter treat
Made in the USA at a FDA registered and GMP certified facility
Recommended Serving Guide
| Body Weight | Servings Per Day | Total Servings |
| --- | --- | --- |
| Less than 25 lbs. | ½ scoop | 60 scoops |
| 26 lbs. + | 1 scoop | 30 scoops |
Feeding Instructions
Add 1 scoop of our yummy peanut butter powder with 1 tablespoon of water, OR a ½ scoop with 2 teaspoons of water into your dog's bowl.
Mix into creamy peanut butter goodness.
Serve, and watch that tail wag!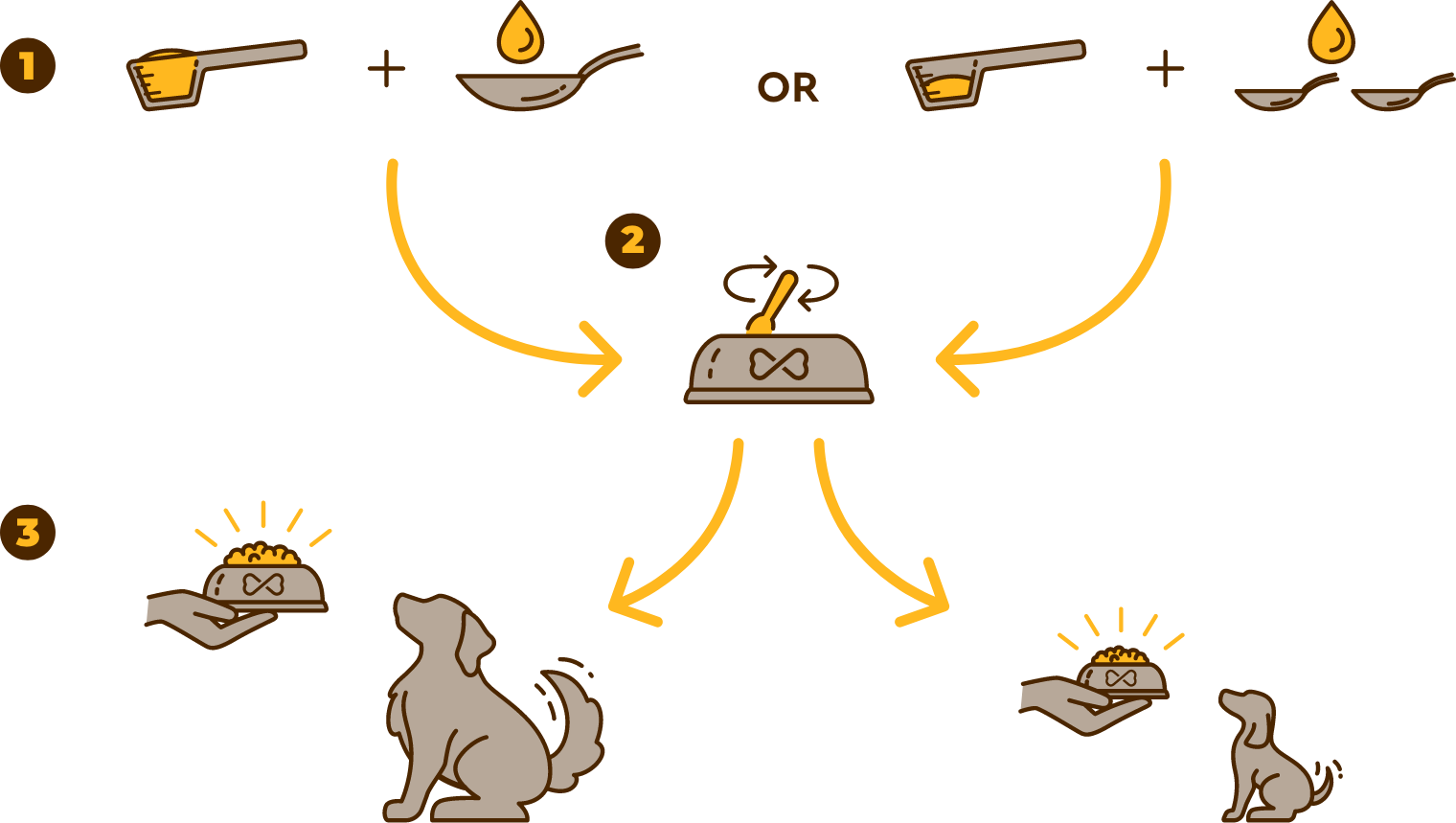 Active Ingredients
A fat-soluble nutrient that's necessary for healthy eyesight, skin and bone development. Studies show it can encourage a healthy response to stress by supporting your dog's adrenal glands.
D-Alpha Tocopheryl Acetate
(Vitamin E)
A powerful antioxidant that strengthens your dog's immunity while also supporting skin and cell health. Vitamin E may also support liver function in dogs, according to some studies.
Vitamin D
(D3 as Cholecalciferol)
A fat-soluble vitamin that supports your bestie's bone development and immune system! It can also help improve your dog's skin health.
Ascorbic Acid
(Vitamin C)
An essential nutrient, also known as vitamin C, that strengthens your pup's immune system and protects their cells from harm using its antioxidant properties!
A water-soluble B-vitamin required to help your pup's body metabolize carbohydrates, produce energy, and enjoy a healthy heart.
Also known as vitamin B2, riboflavin provides support for healthy puppy dog eyes and ensures normal cell function and energy production.
A well-tolerated form of vitamin B3, niacinamide supports healthy blood sugar levels and skin cells in your dog!
Pantothenic Acid
(Vitamin B5)
This B vitamin keeps your pup's skin healthy and helps their body break down carbohydrates, proteins, and fats!
A water-soluble nutrient that plays an important role in your dog's metabolism of carbohydrates and fats. It can also act as an antioxidant to protect cells from damage.
Cyanocobalamin
(Vitamin B12)
A well-absorbed form of vitamin B12 that plays a critical role in energy production, brain function, and the processing of other B vitamins.
A form of vitamin B9 that helps lower levels of homocysteine, an amino acid linked to heart disease when elevated. It also supports red blood cell development and nervous system support.
A water-soluble B vitamin that's essential for healthy hair, skin, and nails. Biotin also helps balance your dog's immune system and improve their blood sugar levels.
A blend of 3 types of curcuminoids (sourced from turmeric) that supports your pet's joints and promotes a healthy response to inflammation.
BioPerine®
(Black Pepper Extract)
A spice that enhances the absorption of curcumin by up to 2000%. It also acts as an antioxidant to help protect cells from harm.
KSM-66® Ashwagandha
(Full Spectrum)
A plant used for centuries as a tonic for longevity and wellness in India. The root and berries of this plant assist in stress management, pain reduction and immune support.
DigeSEB Super Pet™
(Enzyme Blend)
A blend of digestive enzymes that help your dog's tummy breakdown and digest food! This promotes healthy metabolism and proper nutrient absorption.
Pumpkin is rich in fiber and nutrients, like beta carotene and zinc, that support healthy digestion and immune function in your pup. Pumpkin may also support healthy heart function by improving cholesterol markers.
References
Great for treats and mix in's
I love this to freeze lick mats and other stuffable toys. It's also great for frozen dog popsicles and easily can change consistency to meet your needs. It's also helpful in digestion aid since it contains pumpkin. Both of my dogs love it. The bag lasts a long time.