What your DOG will love
Relieves joint pain and stiffness
Improves mobility for blissful play time
Repairs cartilage for increased activity
Protects joints from degeneration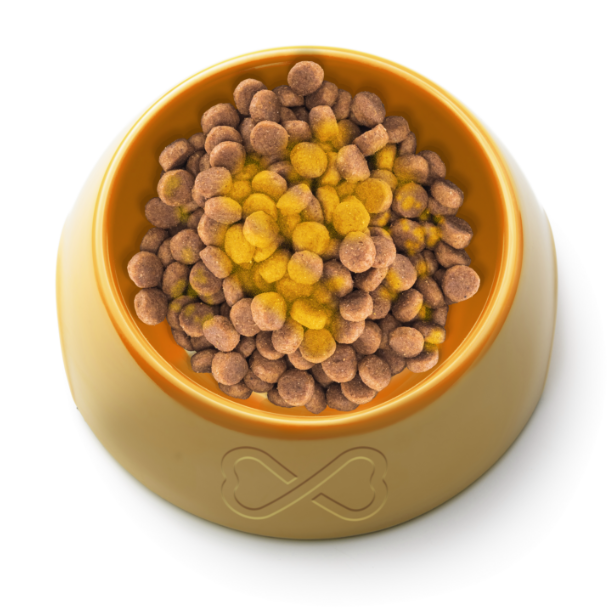 What YOU will love
More fun with your pup! Enjoy high activity playtime and exercise with your bestie
A dog whose healthy joints keep them active no matter their age
Made in the USA at an FDA registered and GMP certified facility
Recommended Serving Guide
| Body Weight | Servings Per Day | Total Servings |
| --- | --- | --- |
| Less than 10 lbs. | 1/2 scoop | 180 |
| 11-25 lbs. | 1 scoop | 90 |
| 26-50 lbs. | 2 scoops | 45 |
| 51+ lbs. | 4 scoops | 22 |
Feeding Instructions
Based on weight, sprinkle the recommended amount of our Hip & Joint Advanced Formula onto your dog's food.
Serve, and watch that tail wag!

Active Ingredients
An amino sugar found in the body that helps reduce joint pain and stiffness in dogs. Studies have shown that glucosamine protects collagen from damage and Glucosamine Sulfate even promotes collagen production.
A well-known herb that supports your dog's joints and a healthy response to inflammation.
A complex carbohydrate that works with Glucosamine to reduce pain and joint stiffness. May assist in lowering markers of inflammation and enhancing cartilage repair.
A rich and well-absorbed form of sulfur which helps protect joints from degeneration over time. It has also been shown to enhance the benefits of glucosamine when taken together.
References
McCarthy G, et al. Veterinary Journal. 2007 Jul; 174(1): 54-61.
Comblain F, et al. BMC Veterinary Research. 2017; 13: 395.
Hip & Joint Supplement Powder
Amazing product
I found this company though Anthony William. He recommended it so I gave it a try. With only one container of the joint supplement we have noticed a different in our 11yr old bully. They only use the best products and if Anthony recommends it....I'm in.
Thanks for helping us with our dogs!
Good product, poor delivery system.
I've been using this product for my small dog for several years and like it. This latest order was problematical as it was mailed to me to my Manhattan, New York City, home address, by using the very slow and quite unreliable US post office! It might depend on where a recipient lives in the US, but trust me, if it's the rather anonymous for package deliveries, and very busy New York City, the post office package delivery choice is to be carefully avoided whenever possible!
Hip and joint powder
We have a 2-year-old goldendoodle and a 12-year-old toy poodle. The hip and joint powder has helped the 12-year-old keep up with the two-year-old it's amazing
Long time user
Started using this 3 years ago when my 12 year old French Brittany couldn't go up & down 3 steps to our yard. Within a few weeks of using it, she was chasing squirrels again. Both of my Seniors, 14 & 15, still run and play. All of our dogs are on it daily. Totally worth it!